8 Ways You Can Celebrate Mum this Mother's Day
No matter what, Mother's Day is always an important day, but this year, our mums might need a little more love and acknowledgement.
There are plenty of gift guides around to help you decide what you can buy for your mum and thankfully there is a plethora of online stores. But more importantly, what can we do for mum on Mother's Day? We've come up with a few ways you can help celebrate mum. If you are a mum with young kids, indiscreetly share this article with your partner, and encourage them, along with your children to consider one or more of these ideas.
1. Create an At-Home Spa Pamper Experience
Create the full experience with flowers, chocolates, bubbles and beauty pampering. Find a quiet space in the house and set it up with a comfy chair, her favourite relaxing music, place the flowers in view and have the chocolates and bubbles on hand. As she sits and enjoys these goodies, you can get to work, painting her nails, massaging her feet, doing a facemask, and even doing her hair (having someone brush your hair for you, is really the ultimate luxury!). Hopefully she will come away feeling pampered, relaxed and loved. If you aren't at home with your mum, organise for everything to be delivered to her home and provide strict instructions to stop and pamper immediately.
2. Give her the Gift of Time 
With all that seems to 'always need to be done' very few mums actually add their own time out to this list! So why not set up some time in the day to let mum go and do whatever it is that she wants. Whether that is lounging in the bath or on the couch, gardening, reading, exercising, creating, or online shopping. The time is hers to decide with it what she wants. She may decide that she wants to spend it with you playing in the backyard but the key thing is, is that the choice is all hers.
3. Breakfast in Bed and/or 5* Dining at Home 
If you can do both of these, then that is the ultimate in Mother's Day treats. Breakfast in bed can be tricky if mum is an early riser and always the one to get up and sort the family out. So let her know that she can sleep in so she doesn't rush up in the morning. Cook up her favourites for breakfast (and don't forget to pick a flower from the garden) and serve to her in bed (or at the table if she's not keen on eating in bed!).
For the 5* dining experience, set the table up with candles, and your best crockery. Create a menu card to place on the table and have the children dress up in their finest to be the wait staff for the night. Go all out with three courses of exquisite foods that you wouldn't have for your day to day dining. Having the family wait on her and the opportunity to enjoy good food will be a lovely way to celebrate her day.
4. Go On an Exotic 'Holiday' 
You can still enjoy a little taste of France (or any other destination that intrigues you) from the comfort of your own home. Get some croissants for breakfast, pack a picnic lunch of French bread, cheese, and fruit, or order a meal from your favourite deli or restaurant (quiche, anyone?), and get into the flavour of the country. For an added touch, set up your dining room table with a red-and-white-checkered tablecloth and fresh flowers, put on some French music, and teach your kids a few basic words in French, such as "bonjour" (good morning) and "merci" (thank you).
5. Take Mum 'Out' for a Special Evening 
There's nothing like taking your mum out to the movies, a play or concert and even though we are constrained by lockdown restrictions, there are some ways to replicate a similar outing. There are many artists and associations, such as theatre and ballet companies, orchestras and bands, making their plays, shows and concerts available to watch from home. Choose a time to view together, have your popcorn, cheese or wine at the ready. Or you can spoil mum by giving her a ticket to her favourite movie at home. It will be a welcome respite from watching children's movies. Show her a Gold Class experience. Let her lie on the couch, bring her treats, pop her feet up and recreate the quiet movie theatre.
6. Do a Presentation of the Kids' Creative Projects
It's amazing how creative and thoughtful children can be through creative outlets. Have the children write a poem to their mum, saying how much they love her and/or paint a picture depicting their favourite activity to do with their mum. On Mother's Day, have the children each present and explain their piece to mum and gift it to her.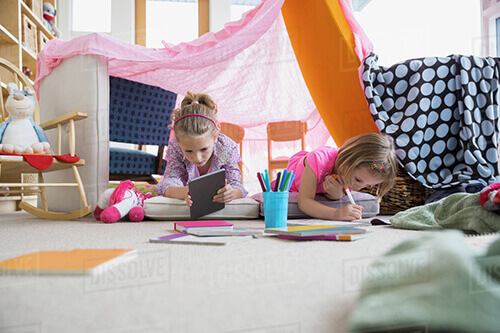 7. Set Up Backyard Camping 
If mum is the outdoorsy type and is missing the outdoors, then why not get the backyard set up for a camping weekend? You could make it glamping with a tepee, comfy mattress and luxe linen to make it a little extra special. Or set up your Springfree Trampoline with pillows, blankets, fairy lights and snacks for a night under the stars.
8. Create a Hug + Kiss Schedule 
What would Mother's Day be like without hugs and kisses all around? One way to work them into your day is by setting up a silly "hugs and kisses" schedule and posting it on the refrigerator or other visible spot. For instance, you could write, "10:30 a.m.: Everyone runs around the couch and gives mum a hug and kiss." or "2:15 p.m.: Everyone hops around the tree in the backyard on one foot and assembles for a group hug." Make up your own directions and silly things to do -- but be sure to include lots of hugs, kisses, and laughter in your day.
And if you aren't going to be with your mum for Mother's Day, some ideas you could do include:
Sip 'Mum-osas' at a virtual brunch.
Unwind together (virtually) with a Netflix party: Mother-daughter movies are always a winner.
Host a virtual tea party or dinner party: make sure someone at your mum's home can organise the set-up for her and enjoy dining together.
Shout her a case of fancy New Zealand wines and then conduct a family-wide wine tasting experience.
Conduct a Mother's Day interview with her grandchildren - what amazing things they'll learn about their grandma (and you might learn a few things too!)
Gift her a virtual painting class with Cork and Canvas
Play a game like Scattegories, Pictionary, or Charades or create quizzes on Kahoot and get everyone on Zoom to participate. There'll be laughs, a bit of competitiveness and fun all round.
We hope you are able to celebrate and share this special day with your mums, in some way. They are special and, lockdown or not, they deserve the celebration.