Springfree Trampoline Awarded
Internationally
CHOICE Recommended
Tested by CHOICE®, the Springfree Smart Trampoline Medium Round was tested among 8 different trampoline brands against the Australian Standards (AS 4989:2015), and was the only trampoline brand to pass all the safety tests.
Read More
Consumer Recommends
Springfree Trampoline is the only recommended trampoline by unbiased and independent body Consumer NZ. The Springfree Medium Round Trampoline is the only trampoline in the Southern Hemisphere to pass all the safety tests against the Australian Safety Standard AS 4989:2015. Consumer NZ General Manager, Derek Bonnar, said the "Springfree is the only model Consumer NZ is recommending from the seven trampolines in its latest test". Read More.
Read More
RedDot Product Design Award 2014
The RedDot product design award is an internationally recognized quality seal that has been around since 1954. The best products receive the RedDot: Best of the Best award. We are proud to announce that from over 1,816 manufacturers, designers and architects representing 53 nations, Springfree Trampoline has been recognized as one of the Best of the Best in 2014 for the design of our O92 medium oval trampoline.
Read More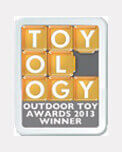 Toyology Outdoor Toy Awards 2013
Springfree was chosen as a winner in the 2013 Toyology Outdoor Toy Awards. The selection process for this award is quite unique and it makes us very proud to have been selected!
Judges
Kids aged between 5 and 16 years old were the chief testers, along with teachers, parents, mummy bloggers and journalists. Peter Jenkinson, editor of Toyology.tv, was hosting proceedings.
Judging
Junior testers were given guidelines to help judge the entries, but the overall fun factor was the deciding factor. Adult judges commented on more specific attributes such as durability, longevity, value for money and originality with fun value also considered.
Read More
2011 Kidspot Best Of Award, Australia
Kidspot's Best Of Awards recognises the best products voted by Australian mums each year, surveying mothers on their favourite products. Springfree™ Trampoline has been named as the Best Toy for 2011 and mums say, "Such an amazing design and loads of fun. It is hard to find such good quality in an outdoor product anymore.
Read More
2010 NAPPA Gold Award – Children's Products, USA
Springfree Trampoline has been named a Gold Award winner in the 20th Annual National Parenting Publications Awards (NAPPA) Children's Products competition. This award signifies that the winning product has been rigorously evaluated against stringent criteria and that it stands out among hundreds of other products from all around the world. Only the best products win the prestigious NAPPA recognition. This distinguished award recognizes Springfree Trampoline as a standout among toys available for children today.
2010 Product of the Year, USA
Springfree Trampoline was awarded 2010 USA Product of the Year in the Children's Products category. Product of the Year USA is voted on by over 60,000 real consumers!
Hosted in 28 countries, Product of the Year is the world's largest consumer-voted program recognizing innovation in consumer packaged goods.
Read More
2010 Product of the Year, Canada
Springfree Trampoline was awarded 2010 Canadian Product of the Year in the Around the Home category. The Canadian Product of the Year award is determined by over 12,000 consumers in Canada.
Springfree Trampoline also received the coveted Product of the Year Jury Award, awarded to one product for outstanding innovation among all of the winners.
2009 International Design Award
Springfree Trampoline received one of the highest accolades in design excellence, an International Design Award by Standards Australia and their esteemed judging panel. All entries are evaluated against rigorous criteria including innovation, visual/emotional appeal, functionality, quality and manufacture, ergonomics and safety, environmental sustainability and presentation.
Read More
2009 Parent's Choice Award, USA
Springfree Trampoline received the highly recommended accolade by Parent's Choice Foundation. The Parent's Choice Award is the nation's oldest non-profit program created to recognize quality in children's media and products. In its 30+ year history, the Foundation has never awarded a trampoline product before.
Our testers, ranging in age from six to sixty-six, found skills they hadn't known, confidence that needed reawakening, and a hefty dose of much needed family fun. If your family has been thinking about a trampoline, this is highly recommended and worth serious consideration.

From the editors
Read More
2009 Family Choice Award, USA
Springfree Trampoline is a proud recipient of the Family Choice Award, USA. Family Magazine Group, America's largest free parenting publication, is recognized as the premier resource for the very best in children's and parenting products and services.
2009 Kidspot Best Of Award, Australia
Springfree™ Trampoline awarded highly recommended product in the Kidspot Best Of Awards in Australia. The Kidspot Best Of Awards recognises the best parenting and baby products as voted by mums in Australia. The Best Of Award represents what mums everywhere are recommending including baby accessories, pregnancy products, and best toys for kids.
Read More
2009 Best Award, New Zealand
An initiative of The Designer's Institute of New Zealand, The Best Design Awards is the annual showcase of excellence in graphic, spatial, product and interactive design.
Read More