15 Ways to Use Your Trampoline All Year Round
We all know that a Springfree trampoline is a great addition to any backyard for great summer fun but there are actually multiple ways you can use your trampoline all year round! Here are our top 15 activities to do on your trampoline throughout the year!
Fort Adventures
Throw a sheet over your trampoline or peg multiple blankets up for different heights to create the perfect cave to hide from monsters, or a spaceship to take you to Mars or a venue for hosting tea parties – it provides a world of possibilities. It's the simple things that can create hours of fun and quality time everyone can enjoy. Any fort is magical as a child and you'll find they'll just love giving their imaginations a workout and you may find several toys and game from inside make their way out to the fort. 
 Winter Edition: Make sure there are plenty of blankets in the fort to keep the kids warm and cosy while they play.
Movie Nights 
Movie nights are a great option for those warm summer nights. Get started by building a comfortable pillow-filled area with a few blankets or sleeping bags on the trampoline. Get a large laptop, or buy a cheap projector and use a white sheet as the screen, then the whole family can settle in with some popcorn. 
 Winter Edition: The benefit of winter nights is it gets darker earlier so you don't have to wait quite as long to get the night started. Just be sure to rug up with hats, gloves, blankets etc
Going Camping 
This is always a favourite, whether for birthday parties or a little weekend treat, to get the kids out of the house for the night. Set the trampoline up with sleeping bags, some snacks and a few torches. It does pay to put a lightweight tarp over the top if staying overnight.
 Winter Edition: If you have a little tent that will fit, you could put that up on the trampoline (sans pegs) for a warmer camping experience. Make sure you put a waterproof layer on the base of the tent with a blanket to insulate the tent bottom from the overnight moisture. Set the beds up with camping mattresses with winter strength sleeping bags for extra warmth and let the kids know that they can always come inside if it gets too cold.
Up Your Picnic
In summer you have little creepy crawlies on the ground to contend with and in the cooler seasons, the ground is often damp and cold so this is where the trampoline can be your saviour for a fun picnic. Set up a rug on the trampoline, lay out a spread of delicious food and enjoy some family time in the great outdoors. We do recommend keep sharp cutlery away from the trampoline and it's advisable that there is no jumping around the food!
 Winter Edition: Add some warm foods to your picnic feast, such as sausage rolls or quiches as well as a warm drink to keep you warm from the inside out.
Star Gazing 
Lay blankets on your trampolines surface and use it as the perfect place to watch the stars at night. Find an app for your phone that helps you find the different constellations so your children can become familiar with the night sky.
 Winter Edition: Again, the great thing about winter is that it does get darker earlier so you can start the activity earlier. As always, be sure to rug up appropriately.
Mid-Air Photography 
Your trampoline is a great photography prop and your kids love to jump. So while they're jumping and practicing different kung-fu or superhero moves, have your phone or camera, at the ready. They'll love looking at how high they can jump and their hair going upwards.
 Winter Edition: This is suitable for year round fun, with winter providing a less glaringly bright light, which is better suited to photographing.  
Outdoor Ball Pit
We've already established that a Springfree trampoline is fun on all on its own. Add some balloons or balls and the fun goes to a new level. There are loads of games to play, such as a type of dodgeball or seeing if you can jump hard enough to shoot the balls out of the trampoline enclosure.
 Winter Edition: This is another great seasonal all-rounder 
Trampoline Disco 
Get out your kids' favourite tunes, and host a disco for them and their friends on your Springfree trampoline. Put some decorations up on the trampoline with lights and let the kids dress up in their favourite dancing outfits. Not only will they have the best time, but they'll work off a fair bit of energy with all their dance moves.
Winter Edition:
 Being a pretty active activity, this is a great seasonal all-rounder.
Performance Stage 
Do you have a budding performer in the family desperate for a stage to showcase their skills? Or perhaps you want an activity the whole family can get on board with. Use the trampoline surface as you would a drum, and create a beat to get the whole family ready to play along. Someone can be a singer, and other members of the family can use a guitar or handmade instruments to enjoy a fun afternoon jam.
 Winter Edition: So long as it's not raining, this is a great activity to get the blood pumping without jumping!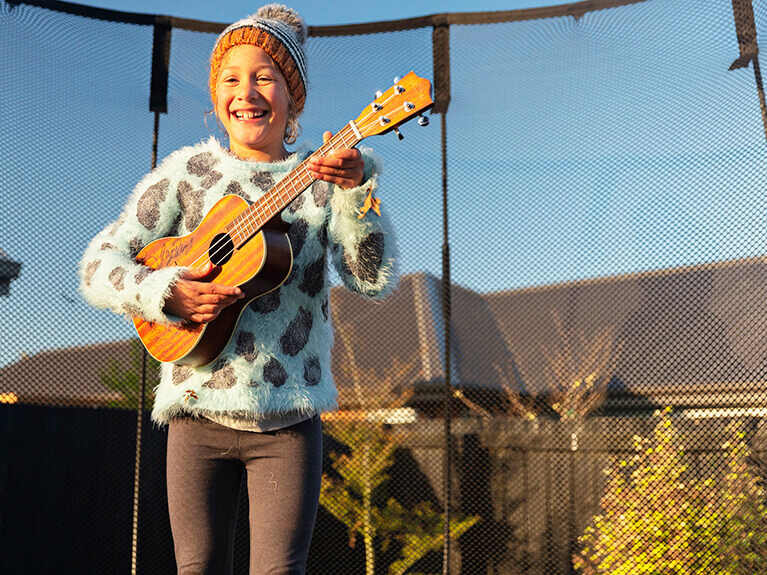 Making Shapes Out of Clouds 
This is always a fun pastime for the kids and while you'll battle with bugs lying on the ground, the trampoline surface is also the perfect place to recline and watch the clouds pass by with your kids. Make shapes out of what you see, and encourage your children to be creative.
 Winter Edition: If it's a winter day that is just one big cloud, see if you can identify shapes within the clouds using the different shades of grey within the clouds.
Glow In the Dark Jumping 
Deck the kids out in glow necklaces and bracelets, and put some music on so they can dance away after dark!
 Winter Edition: As with the other night time activities, the best part of winter is that it gets dark earlier. As they kids will be dancing, they should remain pretty warm throughout the activity.
Drawing Board
Every child has an inner artist within just desperate to get out so arm your little Picasso with some chalk to express themselves on the trampoline. The chalk shows up so vibrantly on the trampoline and it is much easier for little hands to make marks on the smooth surface. Even better the chalk will turn to dust and bounce around when your kids start jumping, which is part of the appeal for my kids. Or, just hose it off or wait for the rain to give you a blank canvas again. 
 Winter Edition: Because sidewalk chalk works so well on the trampoline surface, you can create games right on the trampoline to incorporate some blood-pumping movement to keep the kids warm. You could draw out a hopscotch pattern or Twister - a great childhood classic game. It's even more fun on the trampoline as it challenges your balance further plus falling is more fun and less painful. Or give hopscotch a go 
Jump and Grab
Test and challenge your children's jumping and balance with this activity. Using a pool noodle or something similar strung across the top of the trampoline enclosure, hang streamers at varying lengths for the children to jump and try to grab, touch, hit or whatever the challenge is. This is a fun exercise, especially for younger kids.
 Winter Edition: This is another great seasonal all-rounder 
I spy
We've all laid face-down on a trampoline trying to make out the grass beneath us through the woven mat. Make a game out of this by placing different objects underneath the trampoline that the kids need to seek and find. Provide them with a little chart to tick off the objects as they find them. Or another option is to provide them with an empty shape puzzle base, placing the shapes under the trampoline. While on top they need to find the relevant shape underneath and can only retrieve one at a time.
 Winter Edition: This is another great seasonal all-rounder 
Sprinkler Fun
On those hot summer days, there's nothing better than a bit of sprinkler fun. Place one under the trampoline and jump on top of it. The spray from the sprinklers will turn the surface of the trampoline slippery, perfect for doing slides. 
 Winter Edition: Instead of getting a sprinkler, create some bubble mix and have fun chasing bubbles on the trampoline. The trampoline surface might get a bit a slippery so be careful to watch your step or embrace it and have fun sliding around.
It might sound like a cliche but the various ways that you can use your Springfree trampoline throughout the year are really only limited to your imagination - and children have imagination in spades. So you might find that with a little bit of a nudge in the right direction, they'll come up with a whole host of other uses that we haven't even considered before!